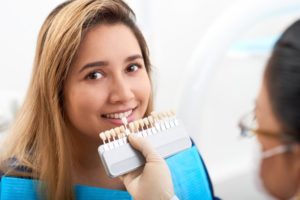 Do you wish the stains, chips, and gaps in your teeth could just disappear? With veneers, they essentially can! These thin porcelain coverings fit over the front surfaces of your teeth and make every cosmetic flaw vanish at once. Once you have veneers, your smile will look stunningly perfect, and the results can last for 15+ years. However, you might have heard that getting veneers causes sensitive teeth due to the small amount of enamel that must be removed. Read on to find out if this is true!
So, Will Getting Veneers Lead to Tooth Sensitivity?
The outer layer of your teeth consists of a hard material called enamel, which protects the layer underneath it, known as dentin. Dentin contains microscopic tubules that lead to the nerves in the tooth's center, and when the dentin is exposed to hot or cold temperatures, these nerves become irritated.
When some of the enamel is removed, such as in preparation for veneers, the dentin is temporarily more exposed than usual. As a result, placing veneers can increase tooth sensitivity, but it should only be mild and temporary. It rarely lasts for more than a few days or weeks, and some patients never experience sensitivity at all after getting veneers.
Soothing Sensitive Teeth
Because veneers provide a durable covering for your teeth, they might actually protect against temperature sensitivity in the future. After all, they shield the tubules in the dentin from extreme heat and coldness.
In the short term, though, your cosmetic dentist should provide tips for minimizing any painful sensitivity you experience after receiving veneers. For example, they might recommend brushing with a desensitizing toothpaste for a few weeks or steering clear of particularly hot or cold foods and beverages so as to avoid aggravating your teeth.
Why Veneers Are Worth the Temporary Sensitivity
For people who wish they could improve their gapped, discolored, cracked, or chipped teeth, a few days or weeks of having sensitive teeth is a small price to pay for a gorgeous grin. If you're still on the fence about whether you should get veneers, consider some of the benefits they offer:
Each veneer is carefully designed to look like a natural part of your smile.
Dental porcelain is much more resistant to staining than enamel is.
You can get any number of veneers to fix a single flawed tooth, several teeth, or even your entire grin.
Veneers can correct practically all aesthetic issues in your teeth in just a couple of appointments.
As long as you regularly brush, floss, and visit your dentist for checkups and cleanings, veneers can easily last for well over a decade.
If you've been dealing with low self-confidence because of imperfections in your teeth, then it's time to ask your cosmetic dentist whether veneers are right for you. Even though your teeth might be sensitive for a short time after the procedure, the dazzling, long-lasting results will be worth it!
About the Author
Dr. JD Hansen has nearly a full decade of experience so far as a family and cosmetic dentist in Cottonwood Heights, UT. He earned his Doctor of Dental Medicine degree from the University of Louisville and has completed advanced post-graduate training in cosmetic dentistry treatments, including veneers. He'd love to help you meet your smile goals with veneers while making the process as comfortable as possible. To get started, get in touch with Dr. Hansen by calling White Peak Dental at 801-293-1234.