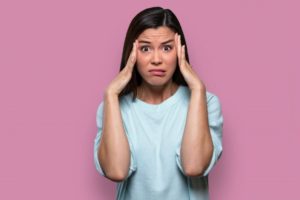 If you're driving through the mountains of Utah and you see an avalanche that's going to reach the road in front of you in a few seconds, try not to panic. Yeah right, good luck with that. In a less dramatic situation, if you are ever faced with a dental emergency, do your best to remain calm. It's ideal to develop a plan of action ahead of time which will help you keep a cool head. If you find yourself dealing with a lost dental filling, for example, here are tips from your restorative dentist in Cottonwood Heights about what you should do.
Step 1: Call Your Dentist
This is always the first step, since the sooner your dentist is aware of the situation, the quicker you will potentially be able to see them for tooth repair. Be sure to mention if you have any pain. If they cannot see you immediately, ask what you can do to protect the tooth in the meantime.
Step 2: Store the Filling in a Safe Place
Do not throw the filling away. Take it with you to the dentist so they can determine if it can be reused. If not, they will begin the process of making you a new one.
Step 3: Make a Salt Water Solution to Gargle with
After mixing a half teaspoon of salt with warm water, gargle to keep the damaged tooth clean and remove any debris that may be stuck on it. Gargling is also beneficial to help kill bacteria and stop them from damaging your vulnerable tooth.
Step 4: Be Gentle When Brushing Your Teeth
You still need to include your damaged tooth as part of your oral care routine until you can see your dentist but be extra careful with it. Brush it gently so that you don't cause further harm while it is vulnerable.
Step 5: Only Chew Food on the Opposite Side of Your Mouth
Minimize the risk of further damage to your compromised tooth by using it as little as possible. That will hopefully prevent discomfort and food potentially getting lodged in or beside the tooth.
Step 6: Use Temporary Protection for the Damaged Tooth
A temporary filling material like dental wax is important to offer protection for your damaged tooth until you can receive treatment. When you call the dentist to report the lost filling, ask if they recommend something specific for you to use to protect the tooth.
Step 7: Relieve Your Pain as Needed
If you are hurting after losing the filling, it is fine to use an over-the-counter pain reliever until you can see your dentist. Follow the dosage instructions so you don't take it too often. If needed, you can also use an ice pack or cold compress for 15 minutes at a time to lessen the swelling. One more option to consider is an oral numbing gel with benzocaine.
Dental fillings are durable with an average lifespan of 15 years, but the wise move is to expect the unexpected. If you ever need help with a lost dental filling, remember to call your dentist in Cottonwood Heights first thing, and then implement these other steps to keep your tooth safe and minimize your pain level.
About the Author
Dr. J.D. Hansen earned his dental doctorate from the University of Louisville and received advanced training in cosmetic and implant dentistry. He loves helping patients be more confident about their teeth and reducing their dental fear. Dr. Hansen offers composite fillings, or he can help if you are having issues with a current filling. Schedule an appointment on his website, but if it's an emergency call (801) 293-1234.