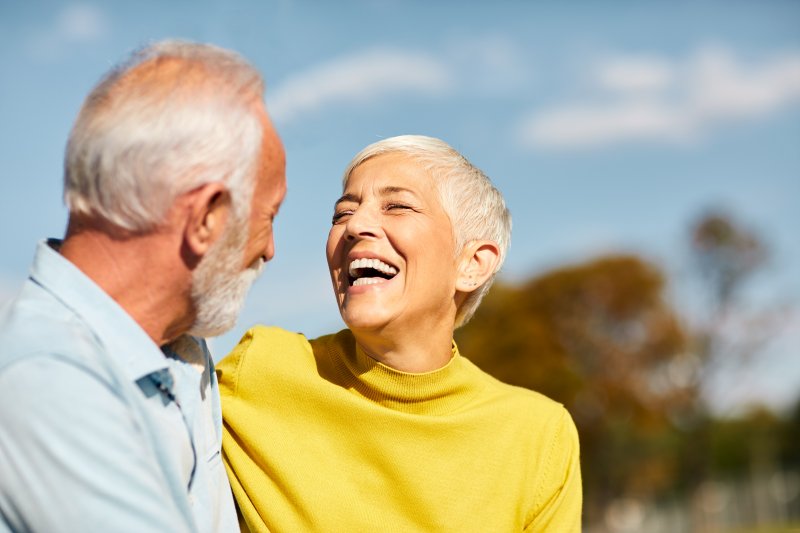 While looking at pictures from your younger days, you probably marvel at the smile you used to have. Unfortunately, it might make you feel self-conscious about the way your grin looks today. But don't worry – everyone's teeth changes over the years, even those who are diligent about brushing and flossing! Thankfully, there are many ways you can address your concerns and obtain a smile that looks just like the one you used to have. Read along to learn how cosmetic dentistry can take years off your pearly whites.
The Effects of Aging on Your Oral Health
Aging can affect more than just your hair and skin – it'll affect your teeth too. Even if you follow a healthy lifestyle, practice good oral hygiene, and visit your dentist regularly, you'll inevitably have problems with your teeth and gums when you're older.
Let's take a look at some of the most common dental problems middle-aged adults and seniors have:
Fragile teeth that are brittle and more susceptible to cracks, chips, and shearing
Worn-down teeth from years of chewing, chomping, and grinding
Crooked teeth from health conditions that affect the gum tissue
Dingy-looking teeth from the ingestion of certain liquids and tobacco products
Darkened or yellowed teeth as the result of the dentin thickening
How Your Cosmetic Dentist Can Take Years Off Your Smile
Are you unhappy with your smile? The good news is your dentist can help you enjoy a youthful grin once again with cosmetic dentistry. Here are some popular cosmetic treatments that can take years off your pearly whites:
Porcelain Veneers
If you have several imperfections that you want to address all at once, porcelain veneers may be the ideal solution for you. The ultra-thin sheaths of dental-grade porcelain are bonded to the front surfaces of teeth, masking any flaw from view. In as little as two appointments, veneers can correct discoloration, chipping, gaps, and even misalignment. With this option, you can obtain the smile you've always wanted in a short amount of time!
Teeth Whitening
After years of drinking coffee and soda, your teeth may look a little yellow. It's a completely normal occurrence that happens to everyone with time. Luckily, professional teeth whitening treatment can eliminate these stains and give you a brighter smile. In just one appointment, your dentist can make your teeth several shades whiter. You'll leave the dental office beaming with confidence!
White Fillings
Long ago, metal fillings were used to repair damaged or decayed teeth. Thankfully, those days are far in the past. Now you can enjoy improved oral health and an enhanced appearance with white fillings. Since they blend seamlessly with your smile, you don't have to worry about anyone noticing them when you speak or laugh!
You don't have to live with a smile you don't love. If you're ready to take years off your appearance, contact your cosmetic dentist and ask how you can get started. Your dream look is only a phone call away!
About the Practice
At White Peak Dental, we provide exceptional, state-of-the-art, individually tailored dental services to patients of all ages. Our highly skilled team is passionate about helping every member of your family achieve the beautiful, healthy smile they deserve. If you're unhappy with your teeth, we can help you achieve the look you've always wanted with cosmetic dentistry. Visit our website or call (801) 293-1234 to schedule a consultation.