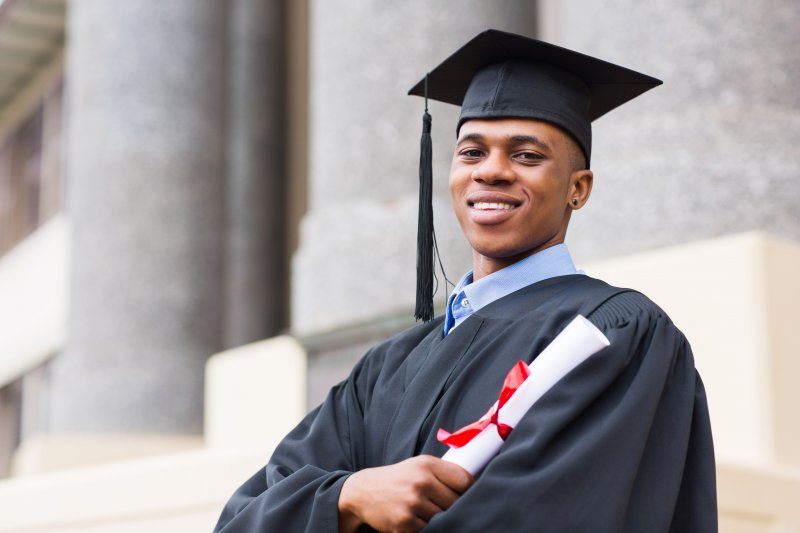 Graduation is a pivotal day in anyone's life. No matter what age you are, it represents years of work leading to a new chapter in your life. It's also an opportunity for every person you know to take as many pictures of you in a cap and gown as possible.
If you want to look good for the camera, a cosmetic dentist can help you do that. If you're wondering how, here are a few treatments that could help you.
Teeth Whitening
One of the biggest anxieties that people tend to have about their teeth has to do with the color of their smile. Even people who take good care of their teeth may find that they're more yellow than they'd like.
Thankfully, teeth whitening is readily available and can make a massive difference in how your smile looks. Your dentist can layer a whitening solution over the teeth and, within a single appointment, give you a smile up to eight shades whiter.
Direct Bonding
If you have a chip, crack, or other minor flaw that's been bothering you for a while, it can put a serious damper on your confidence. Miraculously, direct bonding can repair lifelong aesthetic issues within just one trip to the dentist's office!
Your dentist can layer a tooth-colored composite resin over the tooth then use a specialized light to harden it into place. It sounds simple, but this resin can cover a wide assortment of issues, from breaks in the tooth to gaps in between them. And its convenience makes it a great pick for busy students.
Veneers
Maybe you have a few teeth, or even a mouth full of them, that almost seem beyond repair. If you want to completely transform your smile before your big day, veneers can cover just about any issue you have.
Your dentist can remove a thin layer of your enamel and replace it with a tiny porcelain shell. These veneers cover up chips, cracks, discoloration, and even misaligned teeth. And best of all, you can get a completed set of veneers within just two appointments! If you want to walk across the stage with your dream smile, veneers are the best way to go.
About the Author
Dr. JD Hansen is an experienced dentist who is proud to be able to offer his patients comprehensive, high-quality dental care no matter the issue that they're facing. He cares deeply about the health of his patients, which shows in the quality of his work. Dr. Hansen received his dental degree from the University of Louisville and completed his residency at the University of Utah.
If you have any questions about cosmetic dentistry, we can be reached at our website or by phone at (801) 293-1234.